www.reffeedback.com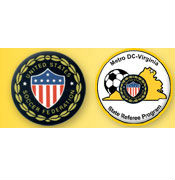 TO: National Capital Soccer League (NCSL) and the Metro-DC and Virginia State Referee (MDCVASRP) Program members
FROM: NCSL and MDCVASRP
SUBJECT: Referee Feedback 2018
All:
NCSL and the MDCVASRP jointly announce the "How is My Refereeing" program. It is an initiative designed to support the Referee Development Program. We are committed to improving communications, instruction, assessment and accountability processes for the referee development program. With approximately 6,500 referees in MDCVASRP and over 160 youth soccer clubs (nearly 75 in NCSL), the ability to have referee educators and coaches at each match is impossible. However, someone is watching every match played. NCSL and the MDCVASRP would like to leverage that audience and pilot an online feedback system. The online system http://reffeedback.com/ was designed by the working group MDCVASRP to quickly gather data from the thousands of games played in Virginia. It will allow the referee association to analyze the data and identify focus areas for its education, training and management to improve the referee development program.
People accessing the feedback system must understand that the system is:
designed to be quick, but provide feedback data to the state referee association for improving the referees; not a complaint forum or initiate disciplinary action for any referee,
a way for the State Referee Program to identify outstanding referees, as well as referees who may need some additional training and the areas to emphasize as a result of aggregated feedback at the program level
one that we hope will result in the steady improvement of the referees through communications and professional feedback
To access the feedback system, follow the instructions below.
On your mobile or stationary internet browser, go to http://www.reffeedback.com
Input the Game detail information
Answer the feedback questions presented
Submit the input and exit the system
We all look forward to our collaboration in keeping the Beautiful Game special. Thank you.
Richard Smith, President, NCSL
Patrick J. Delaney, Chairman, MDCVASRP